The Heilman Center for Pain and Spine Care in Langhorne, PA
Pain Management Doctors in Langhorne, PA
We're eager to help you get back on the path to living life. Request an appointment today to get started!
Effective Pain Specialists in Philadelphia and New Jersey
If you've been dealing with chronic pain for a long time, and other doctors in Pennsylvania haven't been successful in helping you treat your pain, it's time to get personalized care from a Philadelphia and NJ pain specialist.
We are located adjacent to the Oxford Valley Mall in Langhorne, but the Heilman Center offers pain treatment to Levittown, Bensalem, Pardley, Philadelphia, Bucks County, Lower Bucks County, NE Philadelphia; and Burlington, N.J. Our convenient specialty hospital location, comprehensive treatment options, and caring staff set our treatment center apart from other pain treatment centers and hospitals.
Meet Dr. Chekemian
Dr. Beth Chekemian, DO, is a pain management physician and attending anesthesiologist with both the Lourdes Health System and the Heilman Center for Pain and Spine Care at Forest Health Medical Center – Bucks County. She earned both bachelor's and master's degrees at Rutgers University before completing her residency in anesthesiology and pain management fellowship at Thomas Jefferson University Hospital.
Dr. Chekemian uses an evidence-based approach for all types of pain treatment. Her specialties include chronic cancer pain, Complex Regional Pain Syndrome, and failed back surgery/post-laminectomy syndrome, but she has extensive experience treating other acute and chronic pain diseases. Dr. Chekemian is also an active pain researcher who stays up-to-speed with the latest findings about pain and pain treatment techniques. She blends her knowledge of cutting-edge treatments, her experience, and her commitment to excellence to deliver personalized, compassionate patient care.
Do You Need to See a Pain Specialist?
When you're in chronic pain, it's easy to think you're on your own. You don't always get the support that you need from family and friends, and you often feel as though you shouldn't be experiencing the pain that you're feeling. Some people try to minimize their pain and tell themselves they can manage it alone. If one of these statements applies to you, it's time to seek help from the Heilman Center Centers.
You've experienced pain in the same part of your body for more than three months.
You're wary of certain pain medications, and you want to explore treatments that make you feel more at ease.
You've tried managing pain alone or with a little input from your primary care doctor, but you're not getting better.
The kind of pain you're feeling seems a lot more intense than it should, or it's worsening over time.
Pain interferes with your daily life, making it tough to work or even get out of the house to run errands.
Pain is taking a toll on your mental health and straining your important relationships.
Causes of Chronic Pain
There are many possible causes of chronic pain, like lingering pain from a memorable injury or accident. Illnesses, such as cancer, rheumatoid arthritis, fibromyalgia, or diabetic neuropathy, can lead to debilitating chronic pain that require pain treatment. Other potential causes include:
Failed Surgeries
Most surgeons do an outstanding job of repairing injuries and restoring movement and function to the body. In rare cases, surgeries don't turn out as expected, causing pain that doesn't go away.
Ineffective Treatments
Some pain doctors only offer certain treatments or a treatment plan that worked for other patients but doesn't work for you. These treatments sometimes make pain worse instead of better.
Unexplained Pain
Not all pain has a readily apparent cause. Pain can seem to come out of nowhere, or it can worsen with no apparent explanation.
Visiting Our Pain Treatment Center
At our centers, your treatment begins with an evaluation of your pain and a complete discussion of your medical history. We review any scans or medical records provided by other doctors, and we get to know who you are and what matters to you.
After your intake appointment, we develop a treatment plan to help you manage chronic pain. We offer periodic treatments, including steroid injections and minimally invasive surgical procedures. Although we can't always eliminate pain completely, we do everything possible to make it more manageable. Our treatments focus both on increasing your physical comfort and giving you strategies for coping with the pain you have.
Contact Us
No matter what's causing your pain, our experienced PA pain specialists will provide a personalized treatment plan for patients. We work hard to understand your pain, and we listen carefully to your feedback about how your treatment is working.
We're a conveniently located Philadelphia, Bucks County, Lower Bucks County, NE Philadelphia and NJ pain treatment clinic dedicated to delivering the highest standard of care. Contact us to schedule your consultation today.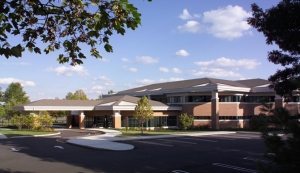 The Heilman Center for Pain and Spine Care
at The Forest Health Medical Center
of Bucks County
280 Middletown Blvd.
Langhorne, PA 19047