Spine Care & Pain Management Clinic in Ypsilanti, MI
Ann Arbor Doctors – Michigan Pain Specialists
Want to know more about The Heilman Center for Pain and Spine Care, your symptoms, or our treatment options? Submit your contact info in the following fields, and we'll be able to answer any questions you may have.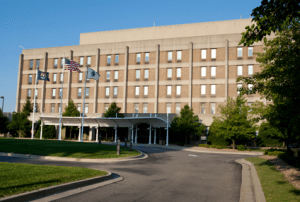 The Heilman Center for Pain and Spine Care
located in Forest Health Medical Center
135 S. Prospect
Ypsilanti, MI 48198
Looking for Pain Specialists Around Ann Arbor? Get to Know Our Team
The Heilman Center for Pain and Spine Care in Ypsilanti, Michigan is located at Forest Medical Health Center, home to one of the leading teams of pain specialists in Michigan. If you're looking for pain treatment in southeast Michigan or the Ann Arbor area, our team of professionals stands ready to help you determine the root cause of your pain and treat it at the source.
If you've tried chronic pain treatments that haven't worked, and even if you're not sure how your pain symptoms got started, our team of pain specialists have the experience to help you find the answers you need. We've built our brand on providing personalized attention and the highest standard of care for our patients. Our services include:
Diagnostics. Get answers for why you're struggling with ongoing pain. We use advanced equipment to thoroughly investigate and identify the true causes of chronic pain. Based on our findings, we design personalized pain relief treatments that get to the true source of your pain.
Medication recovery. We help patients optimize their medication regimens and help end over-reliance on pain medication. For patients struggling with medication dependence, we provide in-patient and outpatient treatment.
Interventional procedures. Our board-certified pain specialists offers a wide range of minimally invasive interventional treatments including steroid and nerve block injections, intrathecal pumps, spinal cord stimulation, and more.
Minimally invasive surgery. Outpatient surgical procedures are sometimes needed to stabilize the back and spine, relieving pain. At the Heilman Center, we use the latest technology and surgical techniques to ensure a speedy and complete recovery.
Get to know our team of pain specialists in Michigan, and make your appointment today.
Louis Bojrab, MD, FIPP
Specialty:
Interventional Pain Management
Education:
Studies: Indiana University
Residency: Indiana University Department of Anesthesiology
Internship: Ball Memorial Hospital
Fellowship: Wake Forest University Pain Management
Board Certifications:
Fellow of Interventional Pain Practice
Diplomate—American Board of Anesthesiology
Pain Management
Board of Anesthesiology
Professional Associations:
North American Spine Society
American Society of Interventional Pain Physicians
American Society of Anesthesiologists
Michigan Society of Interventional Pain Specialists
International Spinal Injection Society
American Society of Regional Anesthesia and Pain Medicine
Dr. Louis Bojrab began practicing medicine in 2000, working as a Michigan pain management specialist. Although he has comprehensive training in all areas of pain management, he specializes in disc fractures and spinal stimulation techniques.
Additionally, Dr. Bojrab is one of the country's leading experts in minimally invasive pain treatment procedures designed to relieve discomfort from certain lumbar and spinal conditions. He also serves as a national ASIPP professor, training and mentoring other doctors as they learn about new pain treatments.
Throughout his career, Dr. Bojrab has preferred working in smaller hospitals, which keep him in close contact with his patients throughout their treatment process. Outside of work, Dr. Bojrab focuses on spending time with his family and finding a healthy work-life balance.
John Chatas, MD, MPH, FIPP
Specialties:
Pain Management
Anesthesiology
Medical School:
Coursework: University of Michigan
Residency: University of Michigan
Board Certifications:
Fellow, Interventional Pain Physicians
Pain Management
Anesthesiology
Professional Associations:
American Medical Association
American Society of Anesthesiologists
As a pain treatment specialist, Dr. John Chatas specializes in treating spine pain, disc disease, and nerve pain. He focuses on listening to patients, understanding what makes their medical problems unique, and developing a personalized diagnosis and treatment plan. The most rewarding element of his practice is seeing patients put pain behind them and resume fulfilling, rewarding lives.
Edward Peter Washabaugh III, MD FIPP
Specialties:
Interventional Pain Management
Hyperbaric Medicine and Wound Care
Education:
Medical School: University of Michigan
Residency: University of Iowa
Internship: Michigan State University, Blodgett Hospital
Board Certifications:
American Board of Anesthesiology, Subspecialty Certification in Pain Management
American Board of Pain Medicine
American Board of Interventional Pain Physicians
Fellow, Interventional Pain Physicians
Memberships:
American Academy of Pain Medicine
International Society of Spinal Injections
North American Neuromodulation Society
North American Spine Society
Michigan State Medical Society
Washtenaw County Medical Society
Undersea and Hyperbaric Medicine Society
Dr. Peter Washabaugh lll specializes in pain management related to neuromodulation and hyperbaric medicine. He has pioneered multiple effective pain management programs by anticipating improvements and advancements in pain management. He approaches patient care by treating patients like family, taking a personal, patient-centered approach to treatment. At work, he provides best-in-class patient care to people who need relief from pain. Outside of work, he focuses on spending time with family and staying busy with personal interests.
Nicole Wood Davison, MS, PA-C
Specialty:
Pain management
Education:
Michigan State University
Chatham University
Nicole Davidson began her career as a social worker before becoming a physician assistant. During a study abroad trip to South Africa, where she witnessed the ravages of AIDS firsthand, she decided working in healthcare was her true calling.
Nicole has a special interest in pain treatments that offer an alternative to medication, including interventional procedures like spinal cord stimulation. Outside of work, she spends time with her husband and enjoys reading and practicing yoga.
Joan Westbrook, PA-C
Specialty:
Pain Management
Education:
Michigan State University
Wayne State University
Professional Associations
Michigan Academy of Physician Assistants
American Academy of Physician Assistants
Our other physician assistant, Joan Westbrook, specializes in treating chronic pain. Her caring spirit motivates her to develop close relationships with patients, often remaining part of their lives after their treatment has ended.
Before joining us in 1998, Joan's dedication to working with people inspired her to pursue a career as a physician assistant, supporting doctors in Ann Arbor as they helped patients take control of their own pain treatment. Outside of work, Joan enjoys quilting, biking, camping, volunteering at church camp, community gardening, and playing with her dog.
Call Us Today
The Heilman Center for Pain and Spine Care staffs a team of highly qualified doctors and physician assistants that are superbly trained and committed to our patient care philosophy. We listen to you, explain your options in plain language, and let you make the final decision over every aspect of your care. So if you're looking for pain specialists in Ann Arbor, SE Michigan, or Metro Detroit schedule your consultation today..