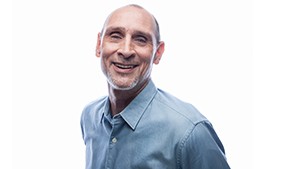 'Osteoporosis turned my bones to mush.'
It's unusual for a 47-year-old male to be diagnosed with osteoporosis. This condition, which results in the loss of bone tissue and bone density, is more prevalent in older adults, especially in women.
But Don, a 20-year electrician who had returned to school as a way to change careers, discovered he had osteoporosis the hard way. He was walking around in Chicago, took an awkward step while walking up a curb, and snapped his ankle.
Three months later, after being cleared to return to school, he was walking the five blocks between th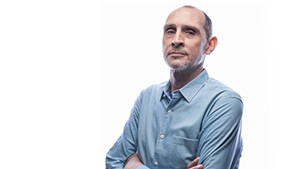 e train station and his school. He felt some back spasms and took a couple of steps backward to lean against a wall for support.
"I stumbled with my backpack, and I landed on my tush," he recalled. "I crushed the L1 vertebra."
Don had surgery to repair the crushed vertebra in his lower spine, and that's when his surgeons discovered he had severe osteoporosis. The cause was the over-prescription of prednisone for an old pain issue. Don put it succinctly: "It turned my bones to mush."
Being unable to work, or even to sit in a chair for long periods of time, made Don feel like a shell of a man. "I've always been a hands-on guy. I loved doing construction. It was a very tough adjustment for me."
Don made an appointment at the Michigan Heilman Center location, where he started exploring osteoporosis treatment options with his pain specialist. One of the first things he noticed was that the waiting periods were much shorter than at other clinics he'd visited.
"Chairs are my worst enemy. I can't sit in most chairs for very long at all," Don explained. "At the Heilman Center, when they tell you 9:00 — it's 9:00."
"I don't feel like a number over there. I feel like they're treating me as a person."
Getting a Game Plan in Place
One of the biggest pluses of working with Heilman Center doctors is the teamwork among pain specialists and staff. "Every two weeks, on a Tuesday, the doctors all get together, exchange notes, and talk about their cases," Don said.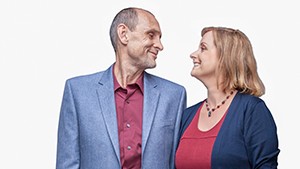 Before starting osteoporosis treatment, the Heilman Center team gave Don a psychological exam as well as a thorough intake with a physician assistant. "By appointment 3, we figured out they knew what they were doing," said Don's wife, Julie. "They figured out a game plan for him."
His pain specialist started by switching Don to a medication that could help him build new bone tissue. He also looked for ways to help Don manage his chronic pain.
'I'm finally getting the relief I need.'
One of the challenges Don experienced when he moved to the Heilman Center was transitioning off the opioid pain relievers he'd used for pain relief. "I freaked when I had to get off the prescription narcotics before the surgeries because I relied on them. They had been my life's blood."
The initial plan to alter Don's pain signals with a stimulator didn't provide enough relief, so his pain specialist, a pain doctor with more than 15 years of experience, offers multiple osteoporosis treatment options, installed a pump for targeted medication delivery.  The pump helps alleviate pain without oral narcotics.  Don's treatment team continues to experiment with multiple medications to provide optimum relief.  He says he appreciates that the Heilman Center team believes him when he says his treatments aren't working, and they always have other osteoporosis treatment options to offer.
After four-and-a-half years of dealing with injuries and pain, Don's life has, in some ways, returned normal. He can visit family and friends without having to leave after an hour or two. He's also able to go fishing again for 20-minute stretches. Save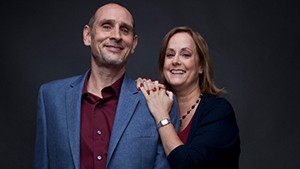 For the first time in years, Don and Julie are making vacation plans. "Instead of just sitting at home wondering when he has to take his next pill — or when he can sit — we're not thinking that way anymore," says Julie. "We have plans of doing things, exploring, just the two of us. We have high hopes for next year."
Talk to Our Pain Specialists